Art in Embassies (AIE) develops and presents approximately 60 exhibitions per year and has installed over 70 permanent art collections in more than 200 of the Department's diplomatic facilities in 189 countries. U.S. Ambassador to India, Kenneth I. Juster currently hosts an exhibition of American landscapes in the historic Roosevelt House residence in New Delhi. Through specialized curators in the Office of Art in Embassies, the New Delhi New Embassy Compound Phase 1 project has incorporated a series of site-specific art commissions into the design of the new facilities.
New Project-Integrated art
In addition to a permanent collection of art by artists of Indian and American decent, site-specific art commissions will be integrated into the new facilities. Art in Embassies has identified several American and Indian artists to create new work for the project. The design team, in collaboration with Art in Embassies, has created unique locations within the facilities to exhibit art as a resource for embassy employees, dignitaries, and the general public.
CONSULAR SERVICES AREA – Bharti Kher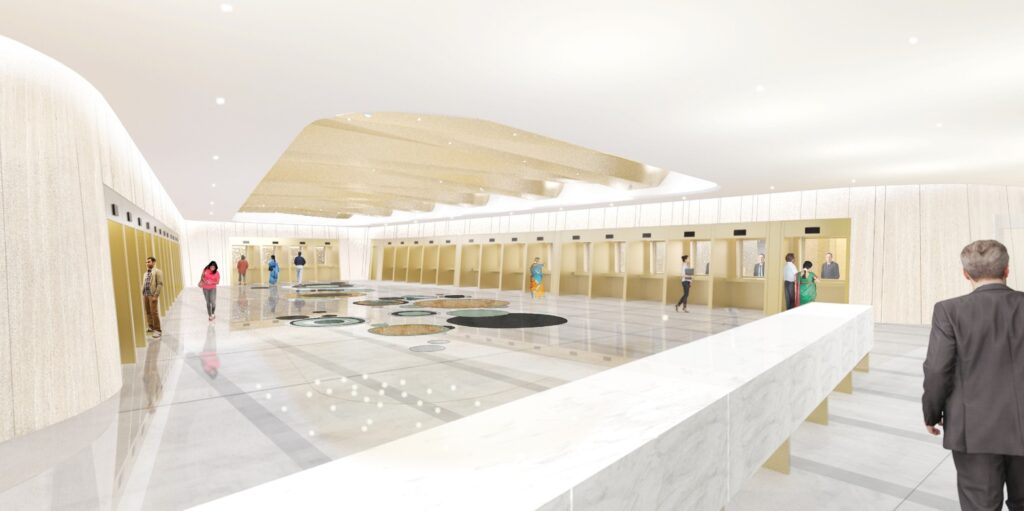 Inside the consular public area, stone inlay artwork by Indian contemporary artist Bharti Kher defines a sense of place. For the realization of this piece, Weiss/Manfredi worked with Kher to specify Indian stones that match the design. (Conceptual Rendering by Weiss Manfredi, left)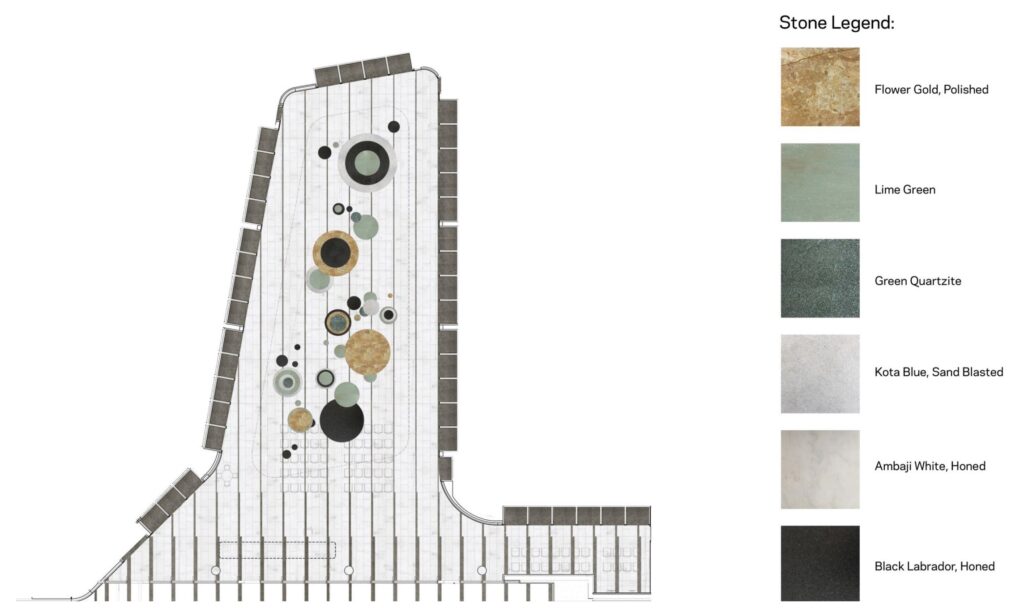 BHARTI KHER has exhibited at numerous museums and institutions internationally, including the Rockbund Art Museum, Shanghai, China (2014); Parasol unit foundation for contemporary art, London (2012); the Art Gallery of Alberta, Edmonton, Canada (2012); the Museum of Contemporary Art, Tokyo (2010); the Essl Museum, Klosterneuburg, Austria (2009); the Baltic Centre for Contemporary Art, Gateshead, UK (2008); the South African National Gallery, Cape Town, South Africa (2007); and the Yale University Art Gallery, New Haven, CT (2006), among others. Kher was awarded the YFLO Woman Achiever of the Year in 2007 and received the ARKEN prize in 2010. Bharti Kher lives and works in New Delhi.
EXTERIOR CONSULAR WAITING AREA – Yamani Nayar
Collage on exterior wall (anticipated) 3m H x 30m L of tile, stone, and/or glass.
YAMINI NAYAR, US/India, is based in Brooklyn, NY. Nayar has exhibited her work internationally at venues including the Museum of Moderne Kunst Frankfurt, Yerba Buena Center for the Arts, Queensland Art Gallery in Australia, DeCordova Museum MA, Kiran Nadar Museum New Delhi, Sharjah Biennial in UAE, Saatchi Gallery UK, Studio Museum of Harlem and recently a solo presentation at Art Cologne, Germany. Her work is included in public and private collections such as the Solomon Guggenheim Museum NY, Kiran Nadar Museum, Saatchi Museum, Queensland Art Gallery, Cincinnati Art Museum and US Arts in Embassies
INTERIOR CHANCERY LOBBY CEILING (HANGING) – Spencer Finch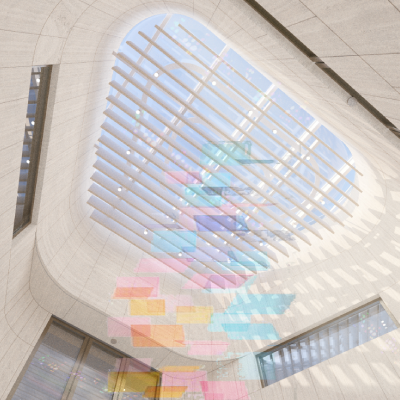 Hanging from the entry lobby ceiling, each of the 30 – 50 elements includes a steel cable attached to a rectangular piece of reinforced glass. (Conceptual rendering by Weiss/Manfredi, right)
SPENCER FINCH was born in New Haven, Connecticut, USA in 1962 and lives and works in Brooklyn, New York, USA. He has a BA in comparative literature from Hamilton College, Clinton, New York, USA (1985) and an MFA in sculpture from the Rhode Island School of Design, USA (1989). Solo exhibitions include 'Lost Man Creek', Public Art Fund, New York, NY, USA (2016); Marfa Contemporary, TX, USA (2014), Indianapolis Museum of Art, Indiana, USA (2013), the Art Institute of Chicago, USA (2011), Massachusetts Museum of Contemporary Art, North Adams, USA (2007) and Portikus, Frankfurt am Main, Germany (2003). He participated in the Folkestone Triennial, UK (2011) and the 53rd Venice Biennale, Italy (2009). Public commissions include Crossrail, London, UK (2017), the Public Art Fund, New York, NY USA (2016), The High Line, New York, NY, USA (2008).
INTERIOR CHANCERY GALLERY FLOOR – Subodh Gupta
Free standing metal sculpture.
SUBODH GUPTA was born in 1964 in Khagaul, Bihar, India. He studied at the College of Art, Patna (1983 – 1988) before moving to New Delhi where he currently lives and works. Trained as a painter, he went on to experiment with a variety of media, which culminated in his first installation in 1996 entitled '29 Mornings'. His work has been prominent in major international biennials and has been the subject of numerous solo exhibitions across Asia, Europe and America. Recent solo exhibitions include, 'Everything is Inside', MMK Museum für Moderne Kunst Frankfurt am Main, Germany (2014); 'Everything is Inside', National Gallery of Modern Art, New Dehli, India (2014); 'The Imaginary Order of Things', Centro de Arte Contemporáneo, Malaga, Spain (2013); 'Spirit Eaters', Kunstmuseum Thun, Switzerland (2013); 'Line of Control', Kiran Nadar Museum, New Delhi, India (2012) and 'Subodh Gupta', Sara Hildén Art Museum, Tampere, Finland (2011).
The full story of the new embassy design is available in the New U.S. Embassy New Delhi Design Book.